Green Bay Walleye Ice Fishing
Come join Trophy Ice Fish as we explore the frozen waters of Green Bay and target trophy walleye! Let our team of professional ice fishing guides put you or your group on trophy caliber, Green Bay walleye.
Guided ice fishing trips for walleye are safe, adventurous and most importantly, fun. We accommodate individuals and groups of all sizes and know all of the best locations to hook you up with Green Bay walleye.
Get started on your adventure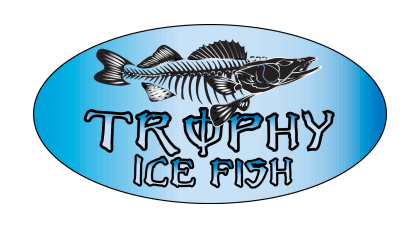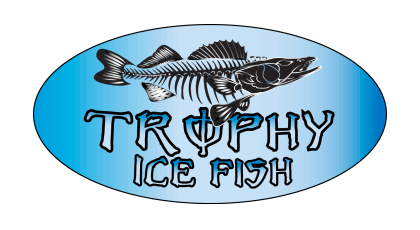 Green Bay Walleye Ice Fishing Trips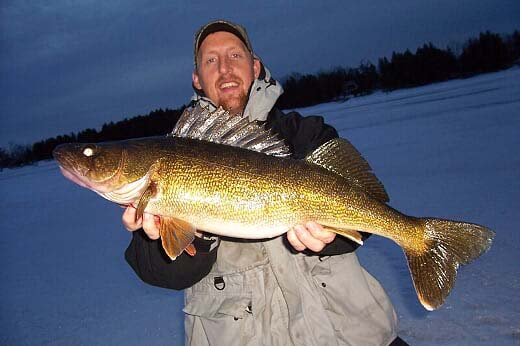 8 Hour Guided Walleye & Whitefish Combo Trip
January, February and March
Includes
Fishing 6:00am to 2:00pm
Licensed Guide & Instruction
Pre-drilled Ice Holes
Transportation

Heated Ice Houses

Ice Rods & Tackle/Bait
Bathrooms on Ice
Cleaning & Packaging Available $3 per fish
Shore Lunch Available $15 per person
1 Day – $200 + tax per person2 Day – $375 + tax per person3 Day – $550 + tax per person
Kids Rates DO NOT apply for Walleye Trips.
Deposit Requirements
Size of Group
1-4 people
5-9 people
10+ people
Deposit Amount
$150
$250
$350
Gift Certificates & Deposits are non-refundable!
Reservations for Corporate Outings and/or groups of 10 or more people?  Call Barbara directly
What Is A Day On Green Bay Fishing For Walleye With A Trophy Ice Fish Guide?
Your day of walleye ice fishing starts at sunrise when the walleyes along the shorelines of Green Bay around Sturgeon Bay in beautiful Door County are active typically the first 45 minutes of light are considered "prime time".

A Trophy Ice Fish Guide will shuttle you and your group to a deluxe heated ice house and provide necessary fishing equipment, rods, tackle and bait to catch walleye. Our guides will demonstrate how to use a Vexilar fish locator and teach jigging techniques to catch Green Bay ice walleye.

Around mid-morning, walleyes become more lethargic this is because of deep clear water conditions. They remain none active until the late afternoon. During this time, we switch to fishing whitefish in a different location and your guide will move your group.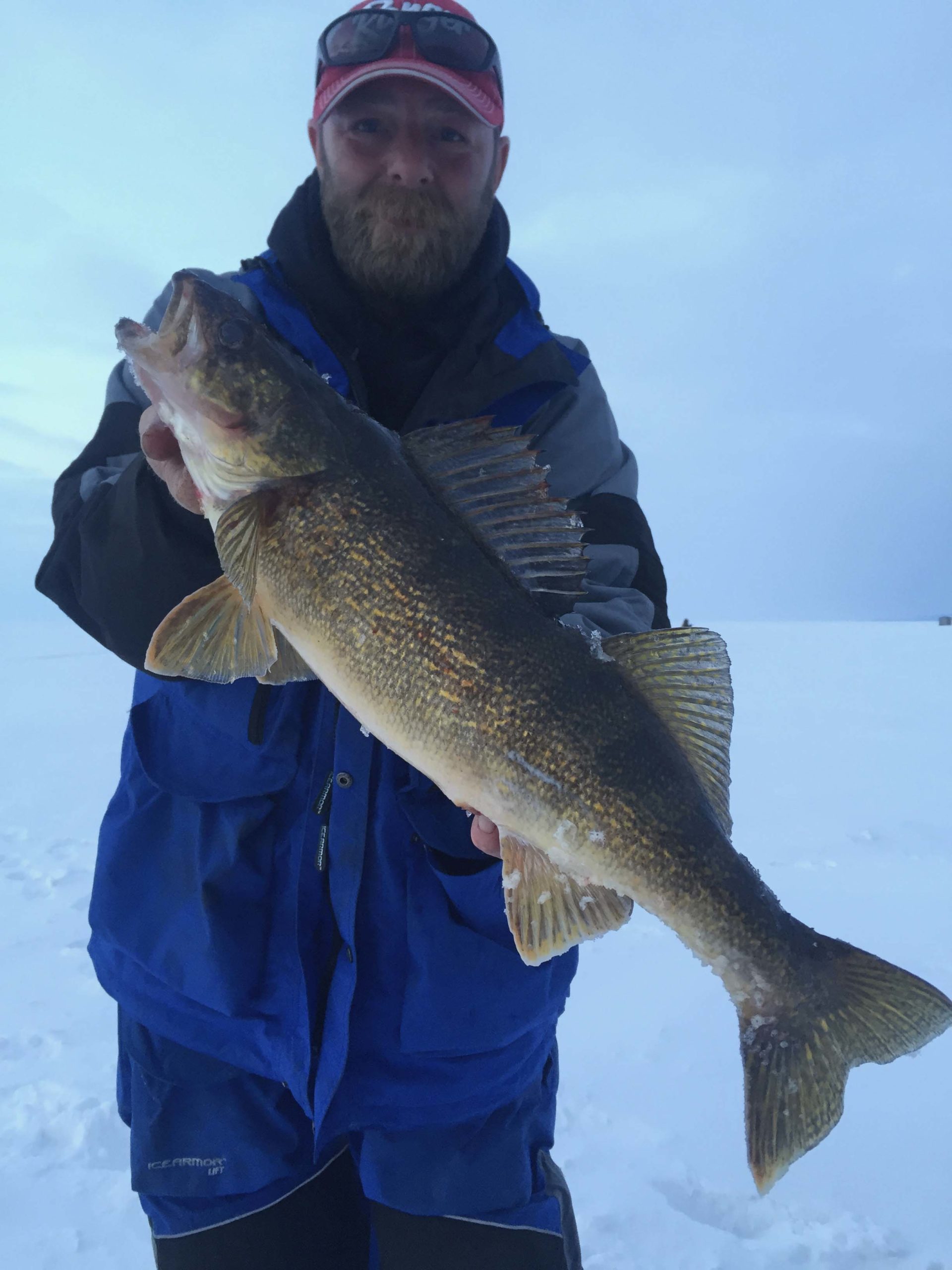 Walleye ice fishing in Sturgeon Bay can be especially good and is one of our favorite spots to take guests. The scenery alone can be especially stunning.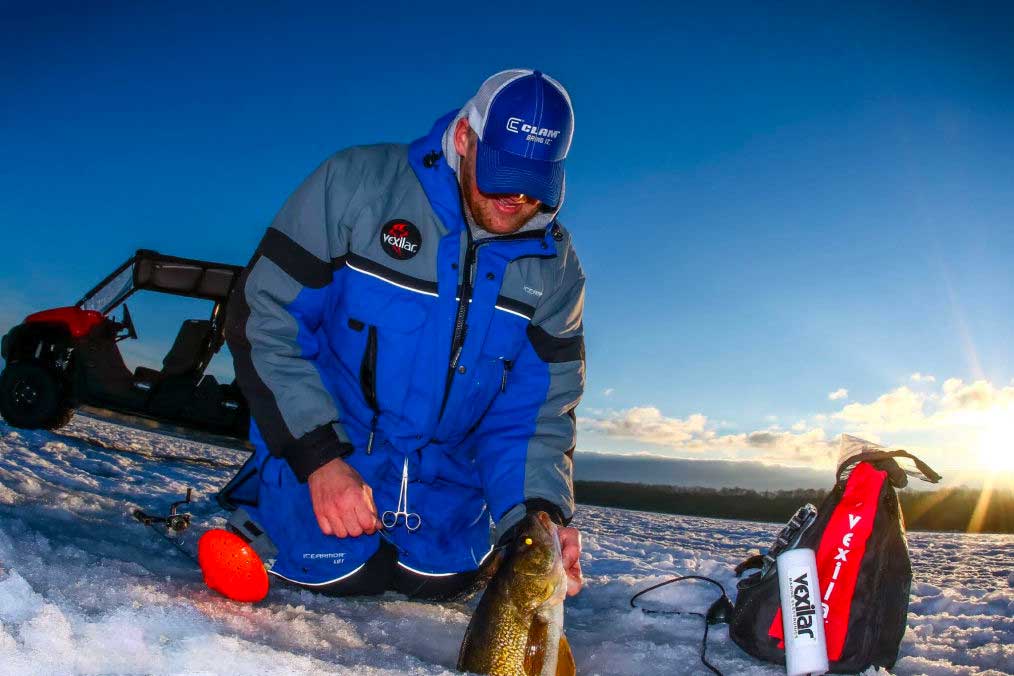 Why Hire A Green Bay Walleye Ice Fishing Guide?
If you're sick of being stuck inside over the winter or if you want to reward your crew or staff for a great year of hard work, then catching Green Bay walleye on a Door County ice fishing charter from Trophy Ice Fish is just the activity you're looking for.
Not only do we have all of the heated ice houses, flashers and all the equipment you'll need for a successful day out on the ice, but we're also set up at some of the best ice fishing locations throughout Sturgeon Bay, Wisconsin. If the walleyes aren't biting in one location, we'll transport you and your entire group to a new location.
Whether it's you and the kids, a group of buddies or the entire office, all ages and experience levels are welcome. Walleye Ice Fishing in Green Bay can provide you with the perfect opportunity to bond, build rapport and just have a great time, all while reeling in beautiful walleye from the cold depths of Green Bay.
Green Bay Ice Fishing Guides At Trophy Ice Fish Provide…
Transportation to and from fishing sites
Heated Ice Houses and pre-drilled ice holes
Vexilar FL20 Fish Flashers & Bait
Mags Custom Ice Rods & Tackle
Instruction and explanation of techniques
Optional: Fishing cleaning and packaging ($3 per fish)
Optional: Shore lunch ($15 per person)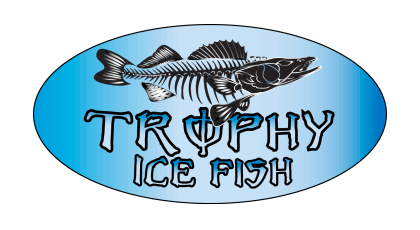 The Walleye: An Elusive Marble Eye Cold Water Ghost!
As the largest member of the perch family, walleyes can grow up to around 33 inches and weigh anywhere from 10-15 pounds. This means that when you hook up with a monster walleye you're in for a good fight. The walleye's back is a dark green or brown with dark stripes running down the sides to a light brown and white underbelly.
This fish gets its name from a reflective layer of pigment that gives their eyes an opaque appearance. This characteristic makes them extremely successful as nighttime hunters. This also means times of low-light are the best times to catch them. The main technique to catch Green Bay walleye while ice fishing is jigging.
Juvenile walleyes will feed on bug larva, gobies, and small fish. Adult walleye feed on any fish they can catch like. As one of the larger predication fish in the waters where they are found, adult walleye have few predators. Musky, northern and bigger walleye prey on smaller youth walleye. On average, a walleye can live 18-20 years on Green Bay.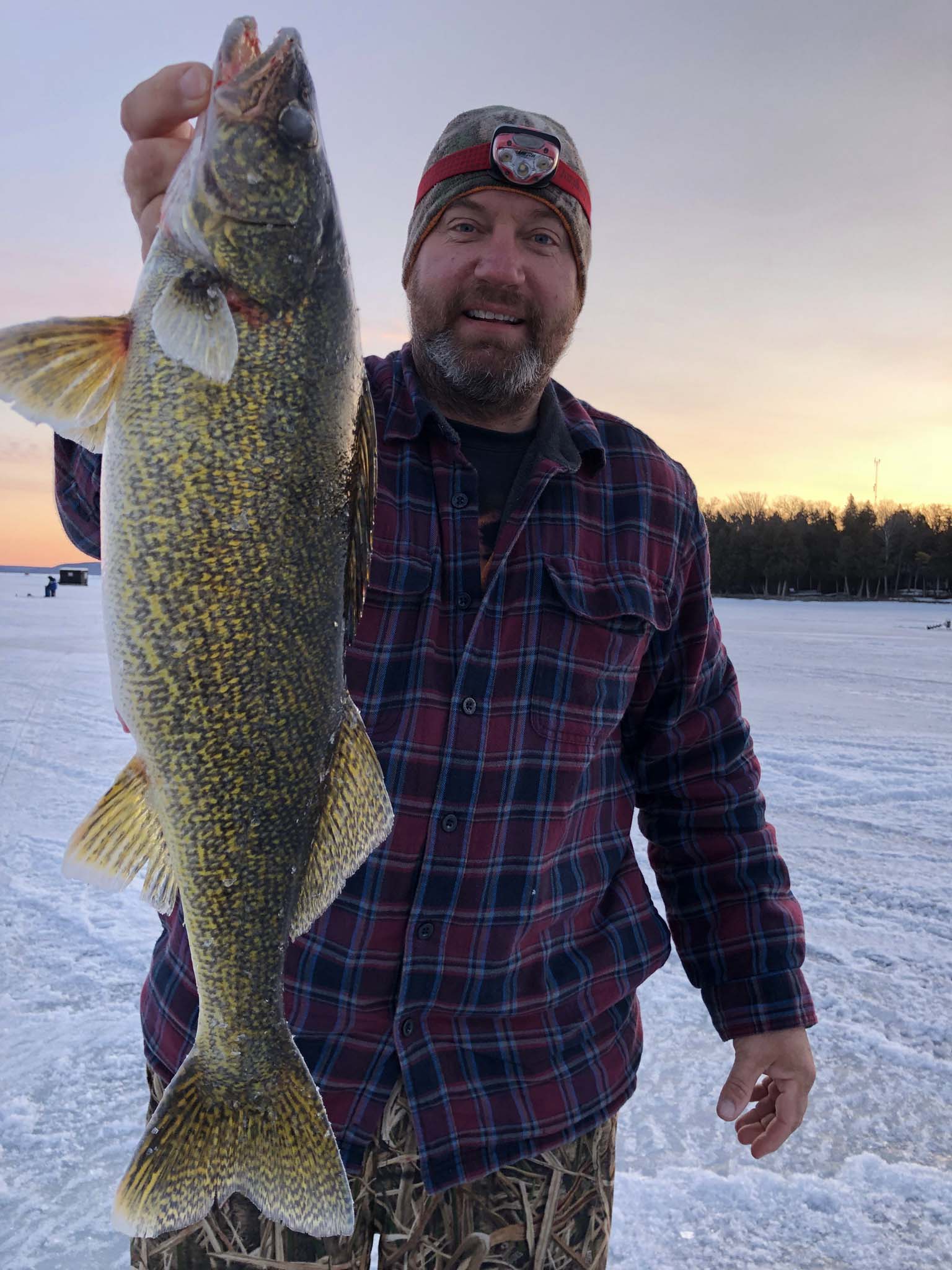 Walleye are native to Canada, the Great Lakes region and the upper Midwest of the United States. They are stocked in waters in other parts of the U.S.

The current world record walleye is 25 pounds and was caught in Tennessee in 1960.

They are usually found in waters of 10 to 40 feet deep.
In addition to being a challenge to catch trophy ice walleyes, especially the larger ones, smaller walleye are known for their delicious, flaky meat. This makes them a prized catch in many parts of the U.S. and Canada.
Trophy Ice Fish: Your Friendly Green Bay Walleye Ice Fishing Service
With over 25 years of experience, Trophy Ice Fish is the number one Door County ice fishing guide service chasing trophy walleye on the ice. We provide the best combination of reeling in big, beautiful Door County walleye all from our very clean and insulated, heated ice houses, top-notch licensed fishing guides, transportation with six-passenger heated tracked utility vehicles to and from fishing locations.
Find out why we are the most trusted Green Bay walleye ice fishing guides. For affordable rates and package information, click here or visit our contact page to drop us a line.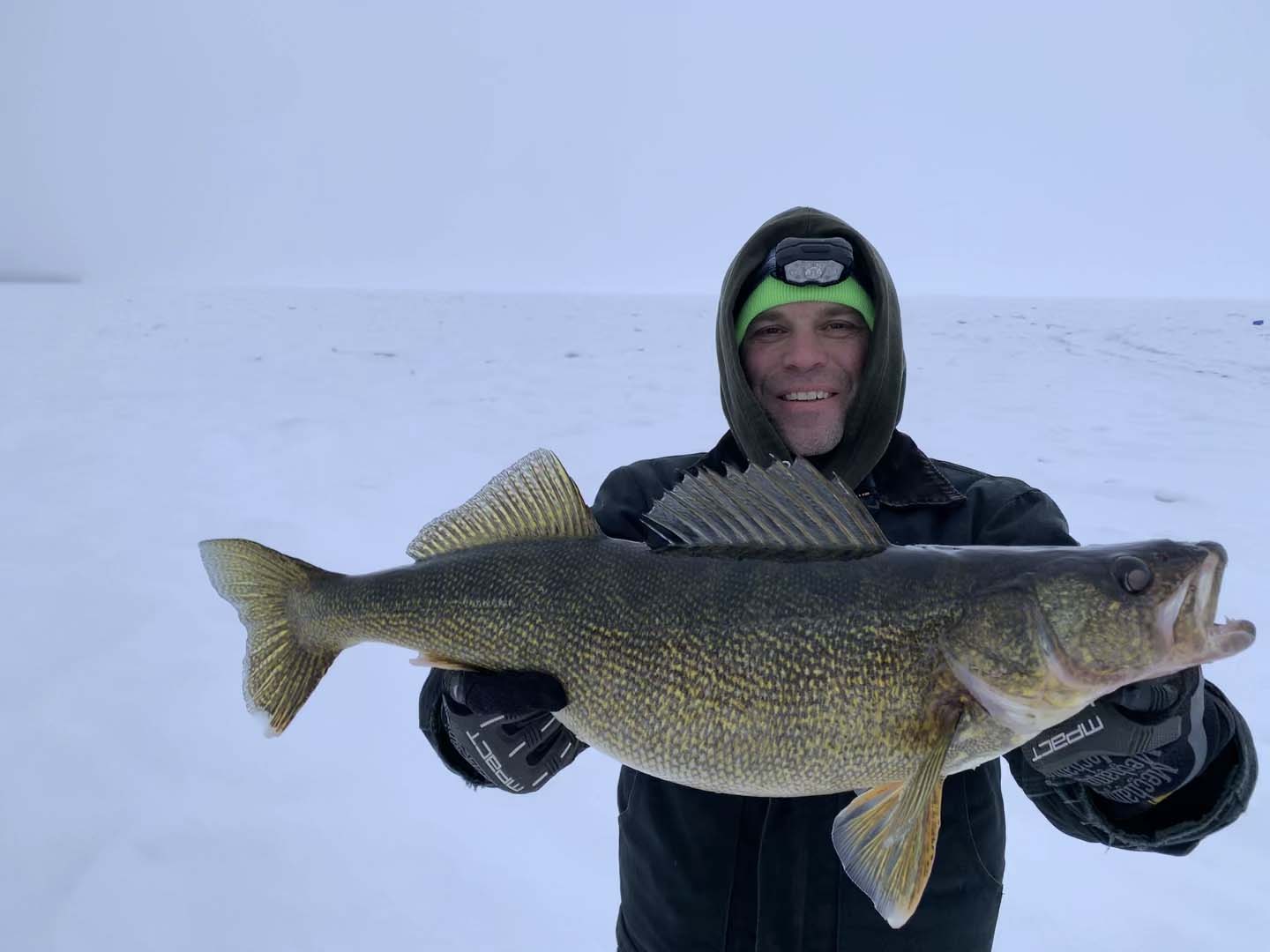 Book The Ice Fishing Adventure of a Lifetime