Sturgeon Bay Ice Fishing
Sturgeon Bay is located in beautiful Door County, Wisconsin. Sturgeon Bay is surrounded by water to the west is Green Bay and to the east of Lake Michigan connected by the Sturgeon Bay shipping channel.
Sturgeon Bay is a maritime city that has a rich history in the shipbuilding industry along with tourism and recreational fishing. Sturgeon Bay draws many ice fishermen year after year because of its excellent ice fishing, beautiful city, great accommodations, and restaurants.
Get started on your adventure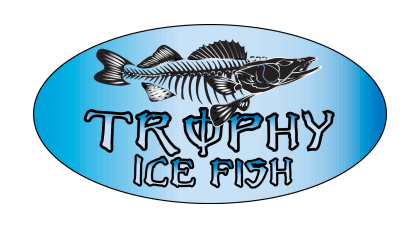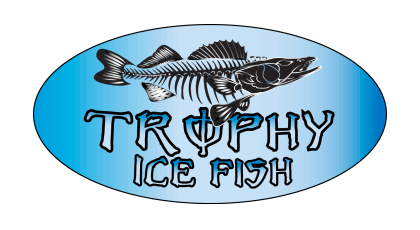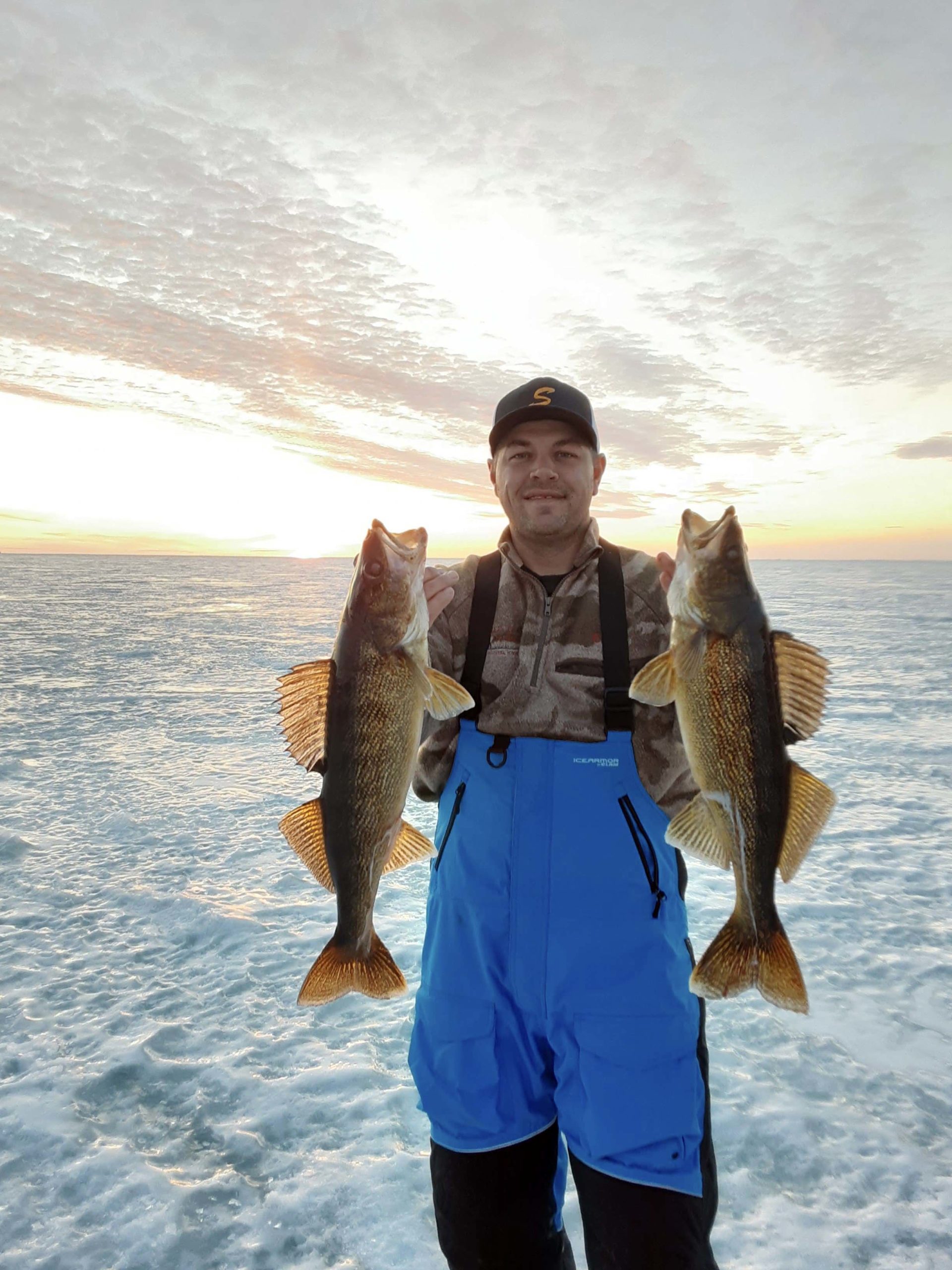 What types of fish can you catch on Sturgeon Bay?
Sturgeon Bay boasts some of the best ice fishing in the country because of its variety of fish to catch. Trophy Walleyes are the most popular and a highly prized sought after game fish. Whitefish have become popular in the last 10 years and are one of the best freshwater fish to eat with white mild flaky meat. When cooked fresh, Whitefish is excellent to eat either broiled, deep-fried, grilled, and even smoked.
Northern pike is another popular game fish people in Sturgeon Bay like to ice fish for. Generally through ice fishing with tip ups using a golden shiner on a large hook and waiting for the flag to go up. Northern Pike are excellent to eat if you can take the bones out correctly.
Yellow perch are targeted in deep basins in the Sturgeon Bay shipping channel during winter. Ice fishermen set up ice shanties and use small tear drop style jigs tipped with wax worms as well as small emerald shiners to catch perch. Perch are excellent to eat when in the 9 to 13 inches range.
Why should you book an ice fishing trip with Trophy Ice Fish?
Trophy Ice Fish specializes in guided ice fishing trips and is a premier ice fishing guide in Sturgeon Bay, Wisconsin. Our customer service is second to none along with knowledgeable guides that will work to put customers on fish. We have large heated ice houses that are clean and situated in fish catching locations. We provide all the fishing equipment needed to catch fish targeting walleye or whitefish. Our ice fishing guides shuttle you to and from locations where the walleyes and whitefish roam. We offer shore lunch where we'll take a couple of fish, clean them up, deep fry them, and return them with all the fixings. No one wants to clean fish when they get home. Let us clean your fish and package them for you to take home after your successful time on the ice.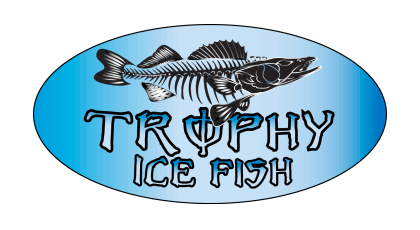 What months are best for ice Fishing on Sturgeon Bay?
December is when we start ice fishing trips for northern pike and perch in the Sturgeon Bay shipping channel. Customers love booking guided ice fishing trips from all over the midwest.
Ice fishing can be a great group activity for those that are on Christmas break and visiting loved ones around the Sturgeon Bay area. Trophy Ice Fish fishing guides set tip ups and set up pop-up style ice shelters so customers can jig for perch and watch tip ups for northern pike. This is a great outdoor activity for families and kids to enjoy a day together.
January is typically a really cold month and once Green Bay is froze over we start to drag our big permanent heated ice houses out to proven fish catching locations. This is a perfect time to hire a Sturgeon Bay ice fishing guide to ice fish for walleye or whitefish.
February is when snow starts to accumulate and Trophy Ice Fish guide service can transport customers to ice houses with heated tracked vehicles designed for deep snow. The whitefish bite is great in February on a variety of bait like swimbaits, gold spoons, and slider rigs. Ice fishing guides know the perfect tactics and jigging cadences needed to catch tasty deep water
whitefish. Walleye action is typically slow in February as the walleyes are in deeper water and somewhat lethargic. We like to set up in deepwater using jigging raps tipped with a minnow head to entice a few bites.
March can be one of the best times to catch trophy walleye through the ice. Walleye are starting to make their way towards shorelines in a pre-spawn mode where we have warm heated ice houses set up. Ice fishing guides work with customers using the latest techniques and tactics to entice a bite from a big walleye. Using state of the art electronics like Vexilar fish locator and custom rods working a jigging rap is a deadly combination used in catching trophy walleyes. Whitefish are plentiful too and in some cases we can catch both whitefish and walleye in the same location.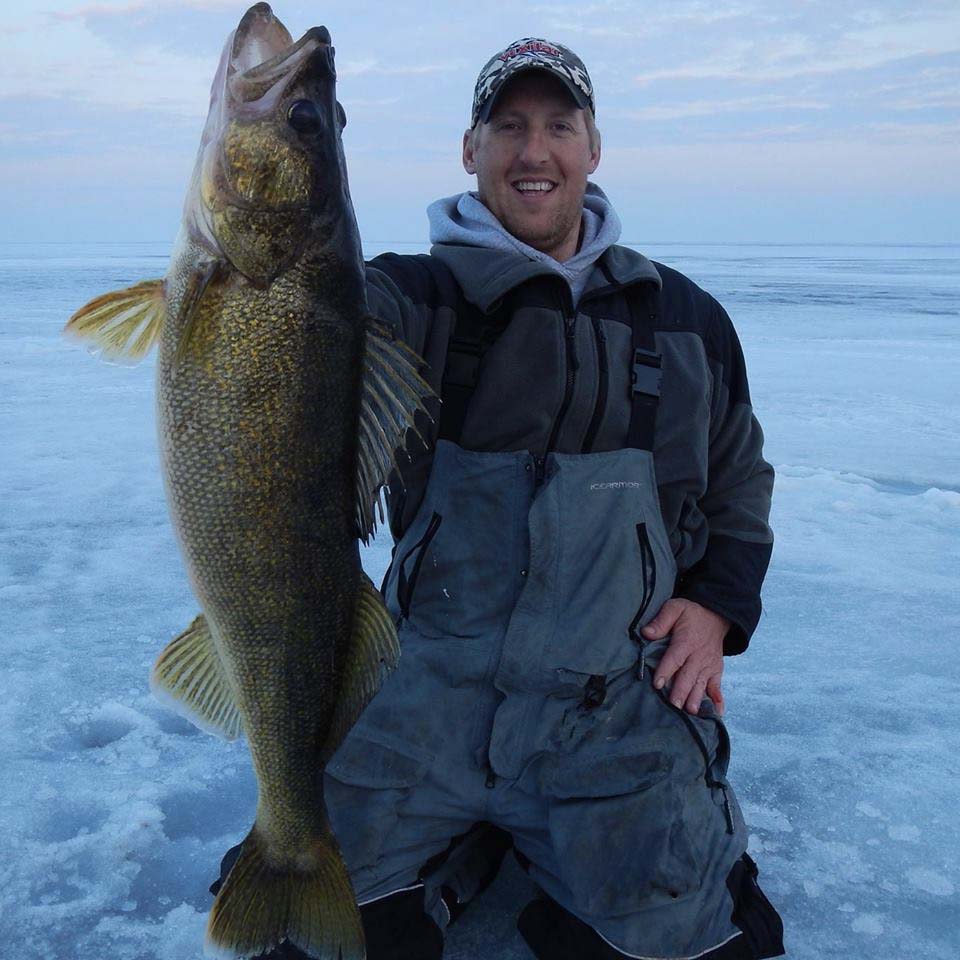 What should you bring on your ice fishing trip?
When hiring Trophy Ice Fish for a guided ice fishing trip here are a few things you need to remember to bring along. The Wisconsin fishing license is required whether you're from Wisconsin or out of state. Your best bet is to go online and go to the Wisconsin Department of natural resources website and buy your license online. Generally a regular fishing license is all that's needed. Dress warm even though you're in a heated ice house.
At times when the weather permits it's nice to go outside and fish in pre-drill holes that are set up for you to enjoy the sun and beautiful day on the ice. The sky's the limit when you want to bring food or something to drink. Generally customers will bring sandwiches or a small grill to cook on. But whether you want to cook brats and hamburgers or a three-course meal it's all good!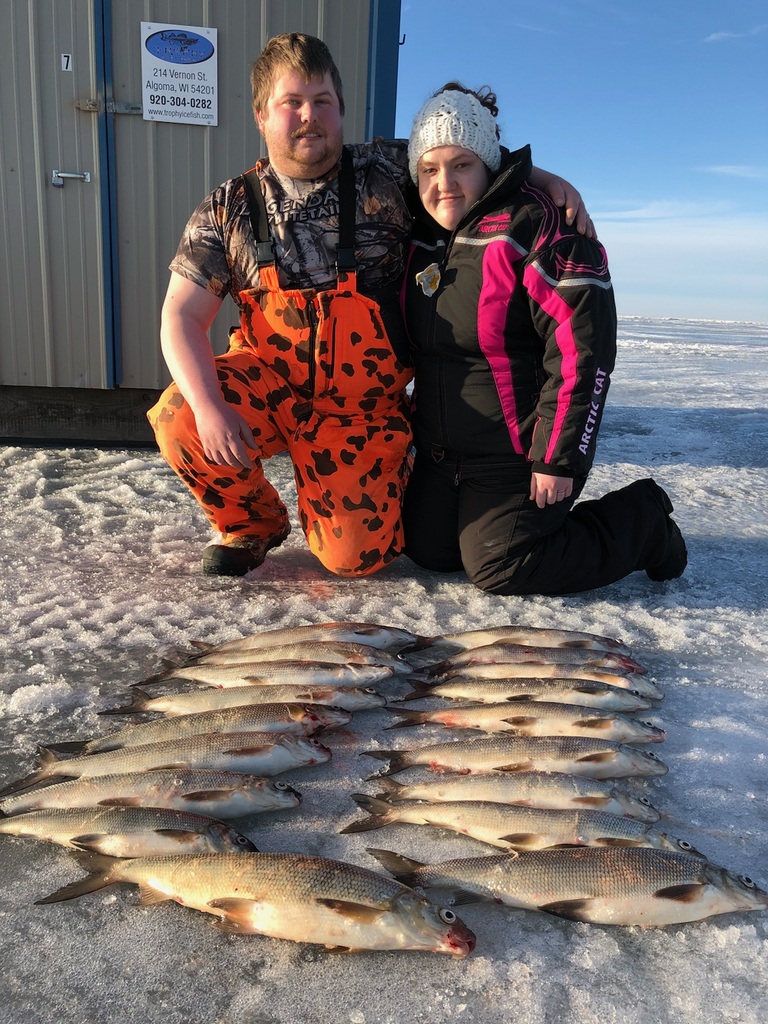 Book The Ice Fishing Adventure of a Lifetime