Perch Fishing with the best guide on Green Bay!
Perch have made a comeback on Green Bay. Trophy Ice Fish has a team of guides ready to take you perch fishing with years of experience knowing all the best spots.
Early ice is one of the best times to catch perch and a great opportunity to fish with family and friends. We use a variety of techniques like tips with live bait and jigging an array of small jigs & spoons to catch jumbo perch.
Perch trips start first ice through the end of January.
Get started on your adventure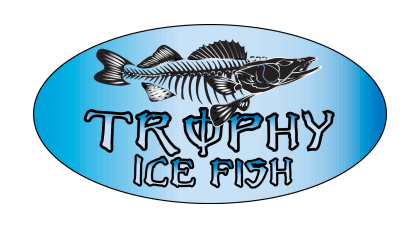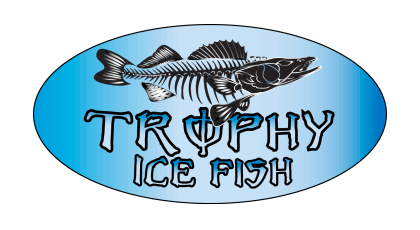 Green Bay Perch Ice Fishing Trips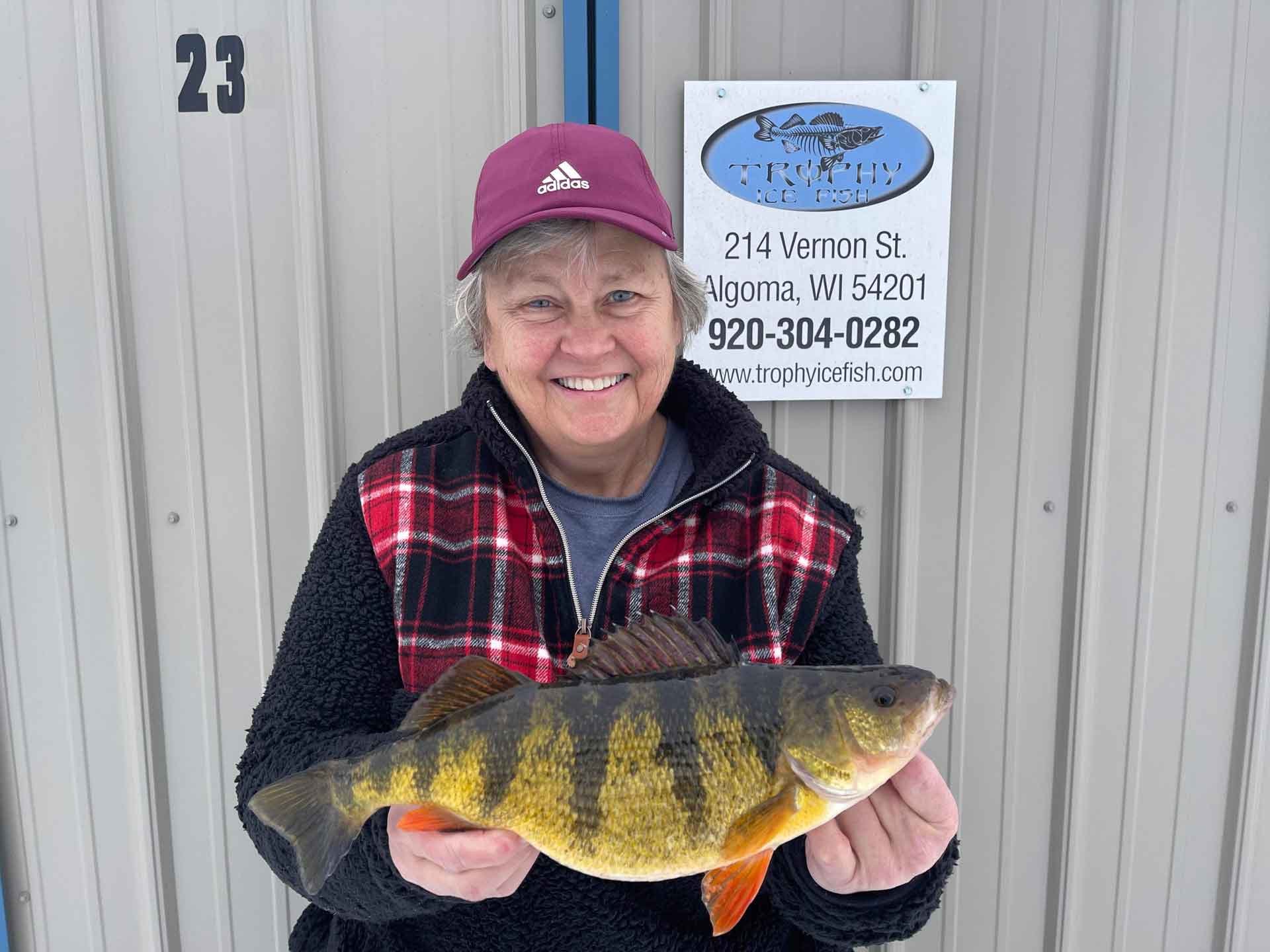 8 Hour Guided Perch Trip
First Ice through late January
Includes
Licensed Guide & Instruction

Pre-drilled Ice Holes
Transportation

Heated Ice Houses

Ice Rods & Tackle/Bait
$150 + tax
per person
Deposit Requirements
Size of Group
1-4 people
5-9 people
10+ people
Deposit Amount
$150
$250
$350
Gift Certificates & Deposits are non-refundable!
Reservations for Corporate Outings and/or groups of 10 or more people?  Call Barbara directly
What is a day of perch fishing on Green Bay with a Trophy Ice Fish guide?
Your day of ice fishing for perch starts at sunrise when perch are active on inner bays and weed edges looking for forage, like minnows, gobies.

Trophy Ice Fish guides will shuttle you and your group to heated ice houses and provide necessary fishing equipment rods, and appropriate tackle, equipment to catch perch. Our guides will demonstrate how to use perch, catching techniques like tip ups, or jig fishing, using a Vexilar flasher.

Throughout the day your guide will be assessing and strategizing the bite continually be on the move chasing Green Bay perch.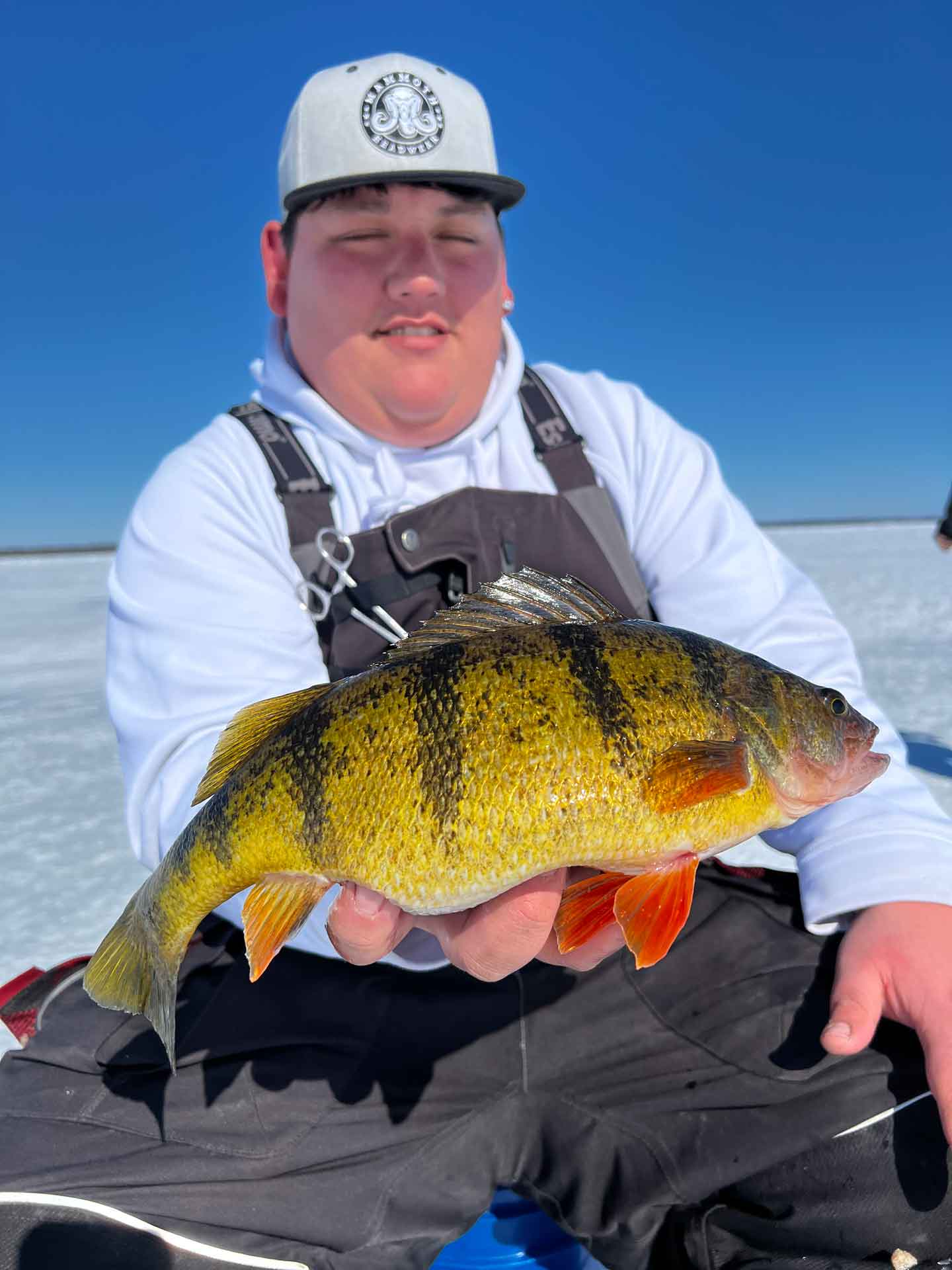 Perch ice fishing in Sturgeon Bay can be especially good and is one of our favorite spots to take guests. The scenery alone can be especially stunning.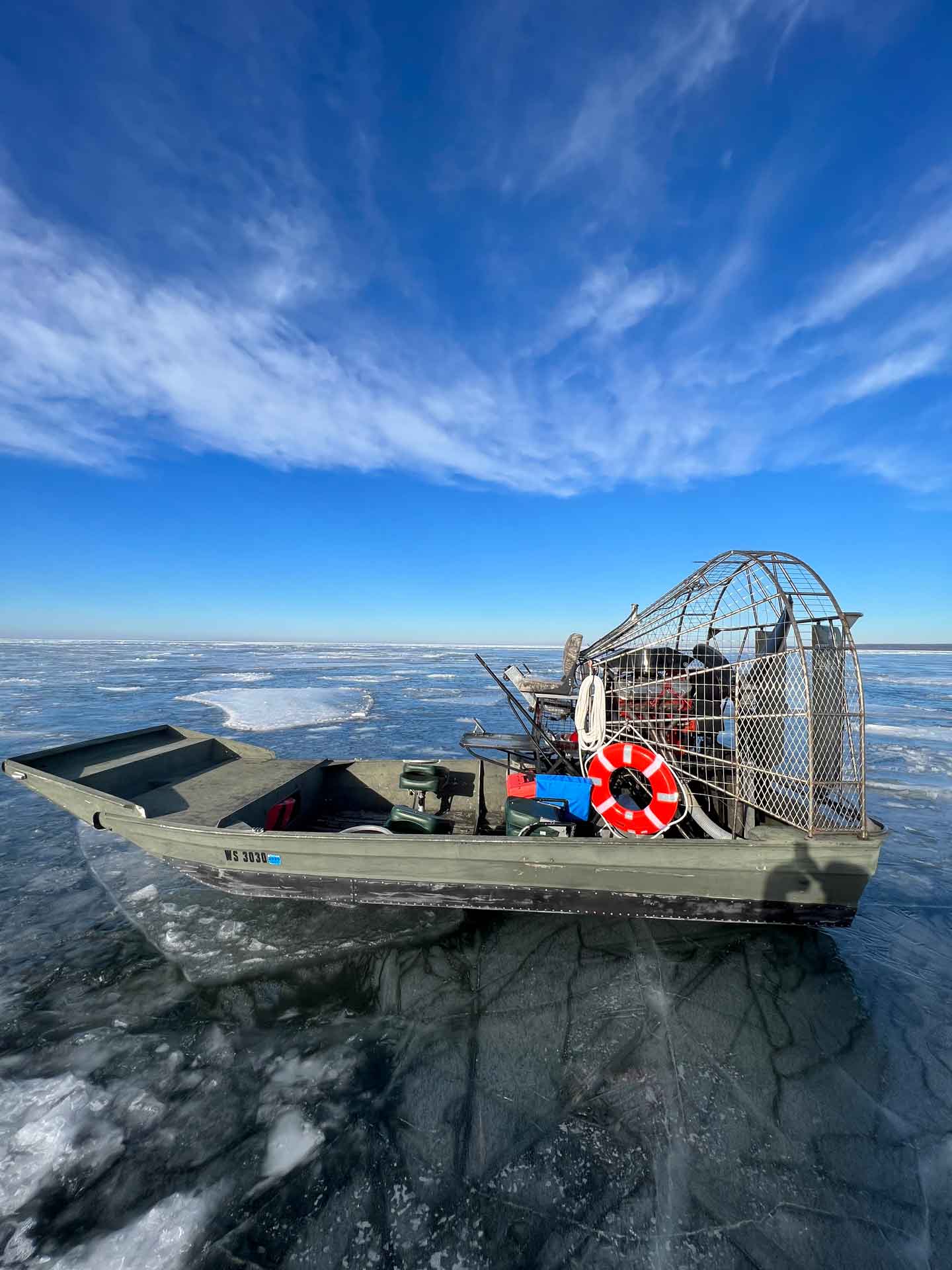 Why Hire A Green Bay Perch Ice Fishing Guide?
The bay of Green Bay is known as an ice fisherman's paradise with the best perch ice fishing in the midwest. Trophy Ice Fish takes great pride ensuring good customer service and chasing on the best bites during the winter months. Our team of Ice guide's care about your ice fishing experience with us.
Trophy Ice Fish uses the best ice fishing equipment in the business with large heated permanent ice houses along with pop up hubs to stay mobile if needed. Vexilar flashers to locate and catch perch along with Mags custom rods to feel the lightest bites. Transportation provides a safe and mobile friendly way to get to remote fishing spot's using our Can-Am 6 passenger max defender limiteds that have heat with big tires to get through the roughest terrain. We are excited to announce that we now have an airboat in our fleet and can get to just about anywhere with this adverse piece of equipment. Our airboat will be used to check ice and be used for first ice and last ice conditions for safety.
When you book a perch ice fishing trip with Trophy Ice Fish whether it's you and the kids a group of buddies or the entire office. All ages and experience levels are welcome. Green Bay trophy fishing can provide you with the perfect opportunity to bond, build rapport, and just have a good time while reeling in beautiful perch from the depths of Green Bay.
Green Bay Ice Fishing Guides At Trophy Ice Fish Provide…
Transportation to and from fishing sites
Heated Ice Houses and pre-drilled ice holes
Vexilar FL20 Fish Flashers & Bait
Mags Custom Ice Rods & Tackle
Instruction and explanation of techniques
Optional: Fishing cleaning and packaging ($3 per fish)
Optional: Shore lunch ($15 per person)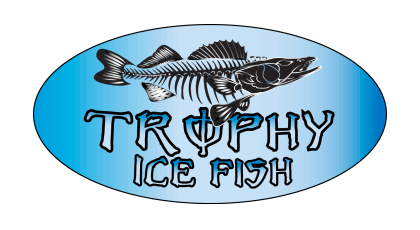 The Yellow perch: Green Bay's prized table fare
The yellow perch has an elongate, laterally compressed body with a subterminal mouth and a relatively long but blunt snout which is surpassed in length by the lower jaw. Yellow perch has many fine teeth. Their bodies are rough to the touch because of their ctenoid scales like most perches, the yellow perch has two separate dorsal fins. The anterior, or first, dorsal fin contains 12–14 spines while the second has 2–3 spines in its anterior followed by 12–13 soft rays. The anal fin has 2 spines and 7–8 soft rays. The opercula tips are spined, and the anal fin has two spines. The pelvic fins are close together, and the homocercal caudal fin is forked. Seven or eight branchiostegal rays are seen. The upper part of the head and body varies in color from bright green through to olive or golden brown. The color on the upper body extends onto the flanks where it creates a pattern of 6–8 vertical bars over a background of yellow or yellowish green. They normally show a blackish blotch on the membrane of the first dorsal fin between the rearmost 3 or 4 spines. The color of the dorsal and caudal fins varies from yellow to green while the anal and pelvic fins may be yellow through to silvery white; in spawning season, males develop pronounced red or yellow color on their lower fins. The pectoral fins are transparent and amber in color. The ventral part of the body is white or yellow. The juvenile fish are paler and can have an almost whitish background color. The maximum recorded total length (20 inches)—although they are more commonly around (7.5 in)—and the weights ranging from .25 – 1.9 lbs.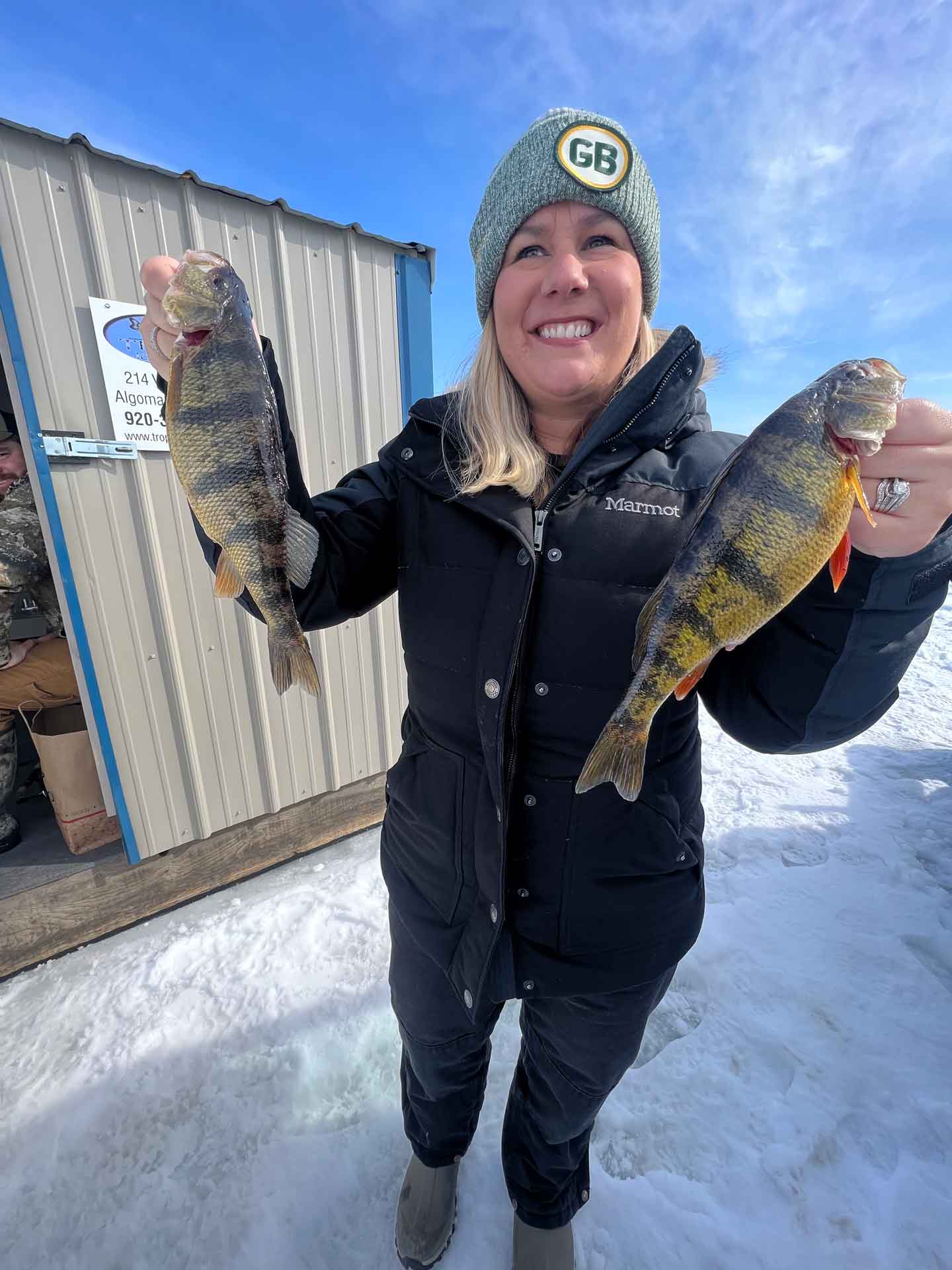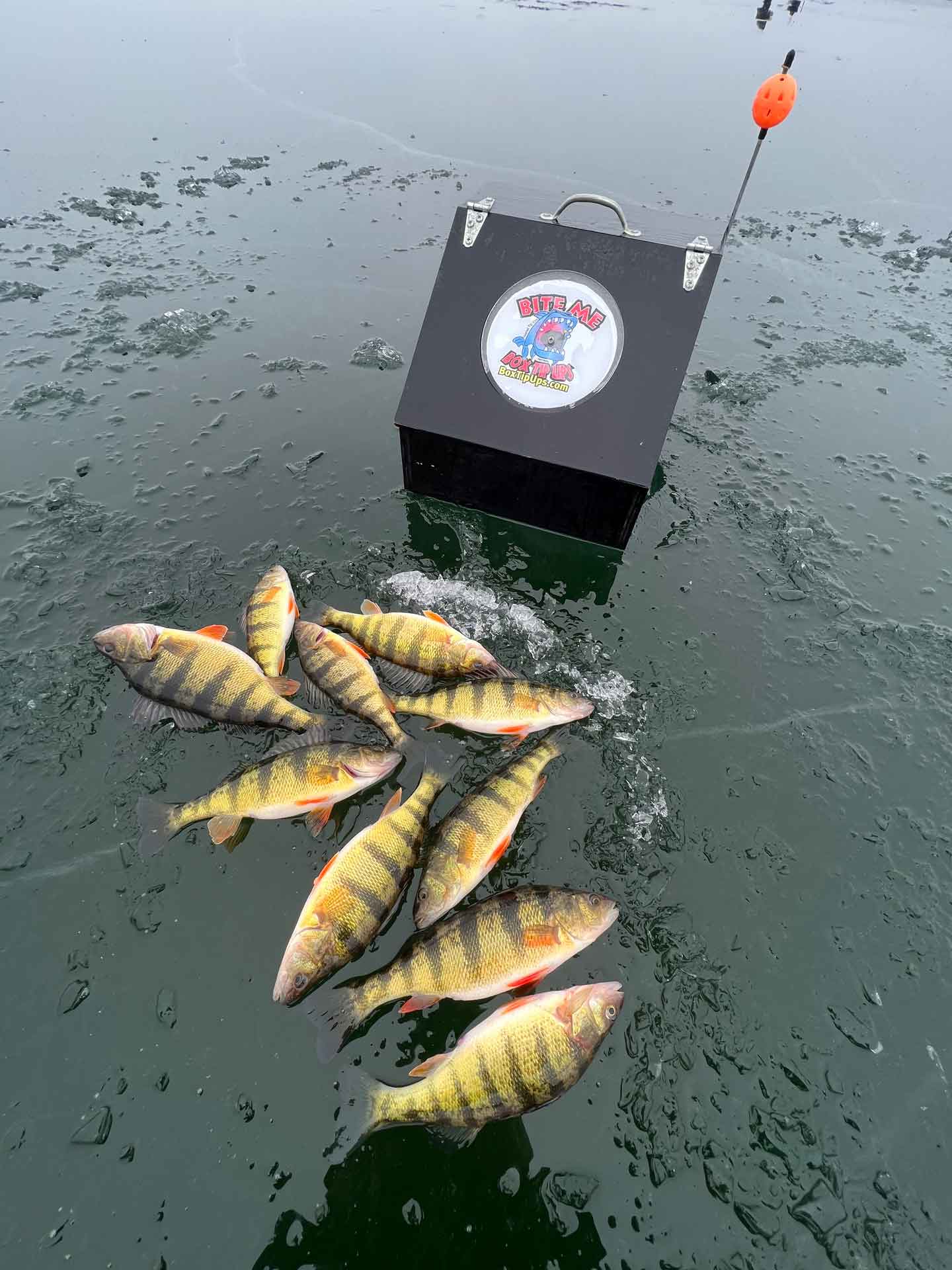 Trophy Ice Fish: Your Friendly Green Bay Perch Ice Fishing Service
With 35 years of fishing experience on Green Bay, Captain Lon from Trophy Ice Fish and his team of guides are ready to take you on a perch fishing adventure. We provide the best experience of reeling in beautiful Sturgeon Bay perch in our clean insulated heated ice houses with top notch fishing equipment and transportation provided by our six passenger Can-Am heated cabbed UTVs along with an airboat, based on ice conditions.
Find out why were the most trusted Green Bay ice fishing guide service. Please reach out to us on our contact page and we will help you set up a fishing trip.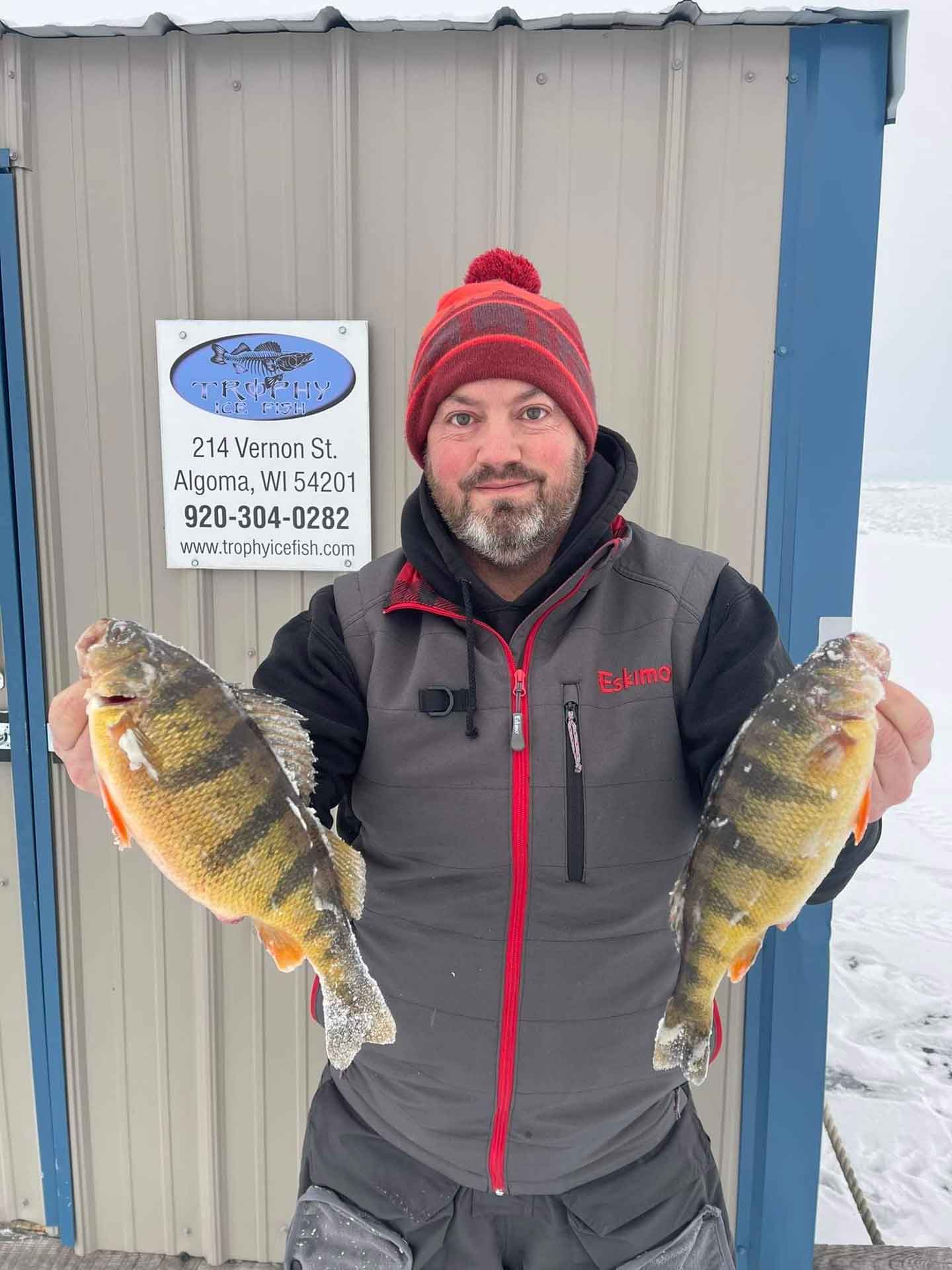 Book The Ice Fishing Adventure of a Lifetime